The Aspirations for Mahamudra: the Path in a Prayer – Part IV (completion of the series on Zoom)
June 18, 2022 @ 10:00 am

-

12:30 pm

PDT

$50.00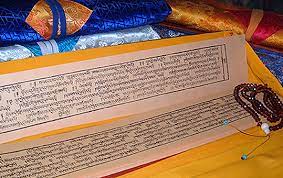 This is the continuation of our exploration of The Aspirations for Mahamudra, a supplication prayer written by Rangjung Dorje. This text is one of the most treasured liturgies in the Kagyu tradition. It captures the essential points of  view, meditation, and application of Mahamudra practice, so essential to the path. The prayer is both interesting and beautiful. In the first class, students learned the history of the prayer, why it is beneficial to recite it, how to recite it, and the meaning of the first few stanzas. In the second class—and in this, and all classes in the series—Lama Lekshe will unfold the meaning of the stanzas.
You may be delighted to see many, many teachings cleverly embedded in the progressive stanzas. As the classes progress, you'll have noticed your own evolving dharma experiences reflected. Little by little, you will understand more and more as we study this text together, and one day, effortlessly, you will have learned the prayer by heart and will understand it deeply. This prayer is commonly recited on our retreats, and some people recite it as part of a daily practice.
In this gentle approach, you will grow closer and closer to the prayer and its meaning. Your dharma vocabulary will expand. You will begin to see the "map" of the Path of Mahamudra and will begin to discover its essential concepts.
This class is best taken in series, which have been unfolding monthly over 2022. The class is appropriate for students at every level. If you have missed the initial class (or classes) register at any time, email Lama Lekshe to say you'd like the link, and we'll give you access to the videos of all the classes. One registration and one tuition cover all the classes in the series.
Related Events