RETREAT: The Four Immeasurables
March 18 @ 8:00 am

-

5:00 pm

PDT

Free – $25.00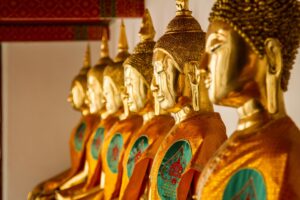 Buddhist teacher Anne Klein writes: "Buddhism teaches that there is no such thing as the self as we think we know it: a separate, bounded self, strictly cordoned off from what is "other." When we are freed from the reactive patterns sprung from the boundaries we live by—good and bad; love and hate—we are not the self we were before. And when the boundaries themselves dissolve, self as we understand it disappears."
Buddhist tradition offers two primary means to diminish our tendency to plague ourselves with selfishness:  enlightened love and enlightening wisdom. The practice of the four immeasurables furthers both of them.
These four immeasurables are equanimity, lovingkindness, compassion, and joy.
In this retreat, we'll explore each of the immeasurables and cultivate them, discovering through direct experience how they are cleverly embedded in most every other practice.
This retreat meets 10 AM to 4 PM, with a break for lunch from 12:00 – 1:30. The location and Zoom link will be sent a few days before retreat.
Related Events