*RETREAT – Green Tara at the Temple
April 15 @ 10:00 am

-

5:00 pm

PDT

$20.00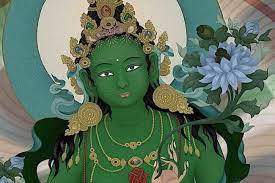 Tara is known as the "Mother of all Buddhas." She acts as an unconditional guide and protector whose purpose is to help all sentient beings find liberation from the churn of suffering. Green Tara is most often depicted seated on a lotus throne holding a blue flower in her right hand. Her right foot is extended slightly, ready to leap up and assist beings in at any moment, with swift, compassionate action.
The Green Tara mantra, Om tara tuttare ture svaha, is one of the most commonly recited in Tibetan Buddhism and is used as protection when practitioners face physical or emotional challenges. Her story and practices first emerged in India fifteen hundred years ago. Here in the West interest in Tara is spreading, part of a shift in the culture as people rediscover and reclaim the wisdom of the Divine Feminine.
Immerse yourself into a full day of Green Tara practice with a group. For those interested, in the morning before the retreat begins, Lama Lekshe will show you how to set up a Tara altar and offerings.
All levels of practice welcome. Please bring your Green the Tara text. This class will be offered at the temple, face-t0-face and by Zoom. We recommend you join us face-t0-face if you can. The schedule for the day will be
9-10 altar set up
10 – 12 practice
12:00 – 1:30 lunch break
1:30 – 3:30 practice
3:30 question and answers
final brief Green Tara practice.
Related Events