HANDS-ON CLASS: Learning a Concise Chenrezig Practice
March 18 @ 10:00 am

-

1:00 pm

PDT

Free – $25.00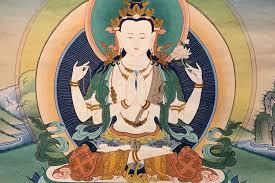 As one of the Buddha Shakyamuni's eight close disciples, Chenrezig—Avalokiteshvara in Sanskrit—was present when the Buddha gave teachings on the Bodhisattva path. Chenrezig is a tenth-level bodhisattva: one whose realization is so luminous and complete that Chenrezig is endowed with all of the qualities of a Buddha and could be considered fully enlightened. This great being's vow is to remain in samsara until all beings have been freed from the agony and confusion of cyclic existence. Chenrezig manifests in as many unique forms as there are beings who need help.
A concise four-armed Chenrezig practice (it's only 3 pages!) is a particularly effective method of cultivating the heart-mind of compassion. Its lineage originates with the 15th century Tibetan mahasiddha Thangtong Gyalpo. It belongs to the class of practices in which we may engage without having first received an empowerment.
Though it is quite accessible and easy to follow, this concise form of the Chenrezig meditation-recitation can ultimately lead to the same deep realization and results as the more elaborate Chenrezig practices.
This is an excellent first yidam practice for those wanting to engage in a Tibetan-style practice with visualizations, mantra and mudra. Dekeling students who are practicing Medicine Buddha or Green Tara may find this practice much simpler to approach. The entire practice takes much less than an hour, start to finish, so it's a good daily practice or a a 'bookend' for retreats, done at the day's end. This practice is suitable for beginners. It will prepare you to comfortably engage in the practice, adding additional instruction, meaning and retreat as you are able.
This is the text Chenrezig. 
Please print this 3-page text for your practice and bring it with you to class and practice sessions.
LINK for this class is https://us02web.zoom.us/j/84149879773?pwd=d3h0UW56bVF4bkRFVTVDWUsrdkVTZz09
Meeting ID: 841 4987 9773
Passcode: 00281
(Soon after this class, we will begin face-to-face weekly practice sessions on Zoom, and in-person short Chenrezig practice sessions at Dekeling Vicarage.)
Use this form ONLY if you do not have funds.
If your funds prevent you from taking the class, please join us as a guest. We value your presence and your intent to benefit beings.
Related Events