Vajra Heart: Lojong Self-Study 2022 with Lama Yeshe and Lama Lekshe
April 10, 2022 @ 12:16 am

-

April 10, 2023 @ 12:16 am

PDT

Free – $50.00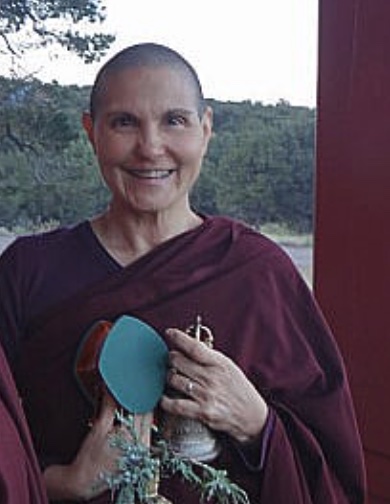 In alignment with our community's ongoing pledge to offer you support for learning and practicing lojong, and in honoring our commitment to forward the work of contemporary female teachers of Tibetan Buddhism, two dharma friends, Lama Karma Yeshe Chodron (Ivonne Prieto Rose) and Lama Lekshe Wangmo  (Julia King Tamang) are collaborating in offering lojong practice. Lekshe and Yeshe have known each other for a long time, and trained with many of the same teachers, so while their material will be similar, each has their own style and approach. Yeshe brings the added benefit of being a skilled translator of Tibetan language.
In Phase I, we'll cover Lojong (Tibetan Heart/Mind Training) Aphorisms 1-30, using podcasts and a booklet by Lama Yeshe. Every two weeks, you'll read Yeshe's short teaching on a new aphorism, and listen to her podcast about the same aphorism as she understands and practices it. In addition, Lama Lekshe will also provide a suggestion for a specific carrying practice—a way to practice the aphorism in daily life.
This collaboration is an excellent follow-on for those who have studied lojong before, and a good starting place for those new to the practice, especially if accompanied by use of a good introductory lojong book like Buddhism with an Attitude, by B. Alan Wallace, or Traleg Rinpoche's The Practice of Lojong:  Cultivating Compassion through Training the Mind.
LAMA YESHE (Ivonne Prieto Rose) – a biography in her own words
A first-generation American and certifiable nerd, Yeshe was born in New York City to a Spanish father and Cuban mother. She completed graduate degrees in biology and law, and worked as a litigator in Miami, Florida and Silicon Valley, California before beginning her studies of Buddhism and Tibetan language at Rigpe Dorje Institute of Pullahari Monastery in Kathmandu, Nepal in 2002. 
To this day, she is still at it, and is bold enough to say that she may have scratched the surface of the vast and profound wisdom of Buddhadharma. Four years of studying and practicing in Asia instilled in her a deep respect for lineage and tradition, as well as an admiration of Tibetan language to equal her lifelong passion for English and love of her native Spanish. She began translating at RDI in 2005 and cloistered retreat in 2013.
In 2016, she completed the traditional three-year fully cloistered meditation retreat of the Karma Kagyu lineage at Vajra Vidya Retreat Center in Crestone, Colorado, under the auspices of Kyabje Thrangu Rinpoche, led by Khenpo Jigme and Khenpo Lobzang. Thereafter, Yeshe returned to translating Dharma teachings at RDI in 2017. 
Yeshe is a recipient of a 2020 Tara Project Teachers' Support Grant from Hemera Foundation and a planning committee member of the GenX Buddhist Teachers' Sangha.
She lives on Tewa and Pueblo lands at Santa Fe, New Mexico and at Pullahari Monastery in Kathmandu.
REGISTRATION BELOW: When you register for this self-study program, we'll send you an email with links to the booklet, podcasts, and the twice-monthly carrying practices.
PS – If you opt to register via RSVP, which is reduced tuition, consider whether you might be able to afford some offering, no matter how small. We made an offering to Lama Yeshe to help support her ongoing teaching, and your offering will help us do more of that. Find the donation link on our home page, on the upper right.
Lojong Scholarship
Join us for this self-paced lojong on a scholarship. If you'd like to make a donation, go our homepage and find the menu on the top right that says SUPPORT and offer any amount.
Related Events