Cultivating the Vajra Heart: Compassion, Fearlessness, Wisdom and Love – a NEW Dekeling program series for 2022
Here are the winter offerings in Vajra Heart. All are open to anyone. Dates coming next week!
DEKELING WINTER RESIDENTIAL RETREAT – WHEN BAD NEWS IS GOOD NEWS: NURTURING THE HEART OF FEARLESSNESS
The mind states of fear, anger, and negativity are pervasive in difficult times. During such times, the ordinary person inadvertently increases their suffering by escalating self-concern and self-protection. The trained and determined practitioner counter-intuitively uses negative circumstances as precious opportunities for cultivating both realization and the gentle spirit of fierce compassion.
In this retreat, following the practice-heart of Machig Labdron, the great female yogini of Tibet, we'll learn a handful of precise and memorable instructions for fearlessness in the worst of times—each one a powerful method of cutting through ego-fixation, teaching us to rest at ease in the invincible heart of love-without-preference.
INTRO to BUDDHISM – 2 HOURS
Especially for those new to Buddhism (and required for students in the Vajra Heart Program) this class will include teaching on the life of Buddha and a quick survey of the core teachings of Buddhism. We'll see how the various paths developed and examine the view, practice, and result of each. A brief list of resources for continued, self-paced exploration will be provided, and a reading assignment will be given to those who wish to read more. This course links nicely with the Intro to Tibetan Buddhism, below. (If you want to do the readings, please early if you and we'll send you information to order the book.)
INTRO to TIBETAN BUDDHISM – 2 HOURS
This course continues our look at the development of the Tibetan tradition, examining how Buddhism initially rooted in India eventually migrated to Tibet and elsewhere. We'll look at the development of the various main schools of Tibetan Buddhism, and learn what sets Tibetan Buddhism apart from other forms in other places.
INSTRUCTIONS FOR A FULL SESSION of DAILY SHAMATHA with PRAYERS – 2 HOURS
Community members at Dekeling have been doing calm abiding (shamatha) practice with the Four Thoughts that Turn the Mind, and Refuge and Dedication for some time and some have expressed a wish to now add additional short prayers to make a more complete session. We cover basic meditation instructions, and you'll also receive a daily meditation schedule for 2022. Recorded instructions for the various methods of shamatha will be given via podcast after the class.
TEACHING ON THE ASPIRATIONS FOR MAHAMUDRA PRAYER, Part I, – 2 HOURS
The most direct method to experience inner freedom is by exploring the nature of awareness. This journey connects us to a source of equanimity, wisdom, and compassion—revealing a profound treasure that is always available and easy to access. In this series of teachings, we will gradually explore the short text written in prayer form by Ranjung Dorje, the Third Karmapa. The prayer artfully includes the essential points of the view, meditation, and application of Mahamudra, step-by-step. After this course, you can begin to recite the prayer as part of your daily practice, gradually and effortlessly memorizing it. We'll continue the study of this prayer in 2-hour increments as the months go by. Teachings will be recorded and archived.
THE STRUCTURE OF A SADHANA 2 HOURS
This class is an introduction the use of the daily Tibetan spiritual practices called sadhanas [Skt]. Before we begin our study of Green Tara this spring, we'll take some time between now then to gain some background knowledge that will help you do and appreciate such practices. In this first step, you'll learn what a sadhana is, how it is structured, why. Understanding this is like having an X-Ray of a fine machine: you'll have a sense of how it works and will be able to appreciate the sophistication of these elegant and profound tools for awakening.
LOJONG – Continuous Practice in the Seven Points of Mind Training
This practice support is for those who have studied mind-training in the past (were part of our 8-month study and practice program last year), or by special permission from Lama Lekshe. If you enroll to receive this practice support, you'll automatically get a 10-15 minute teaching via podcast every two weeks. You'll listen to the podcast and practice the slogan for two weeks, and then receive a new slogan. If you have practice questions, you can address them in a Monday night question and answer session—or via Zoom with Lama Lekshe. Enrollment in this program will give you access to these materials until December, 2022. A new session of the program, with new registration will begin in January, 2023.
MAKING THE MOST OF A DHARMA DISCUSSION 1 HOUR (2 FREE 30-minute PODCASTS!)
Every Monday night the Dekeling community has an hour of meditation followed by an hour of dialogue. During these discussions, you can get practice questions answered and learn more about how to apply your practice in everyday life. How do you get the most from these discussions? In addition to asking questions that spontaneously arise, learn more about how to form clear questions so you get the answers you most want. In the second podcast, learn how to listen deeply during a dharma discussion, so that every moment is a practice opportunity. Build stronger sangha relationships. Enhance your basic dialogue skills. This will help you in other community or family discussions, as well.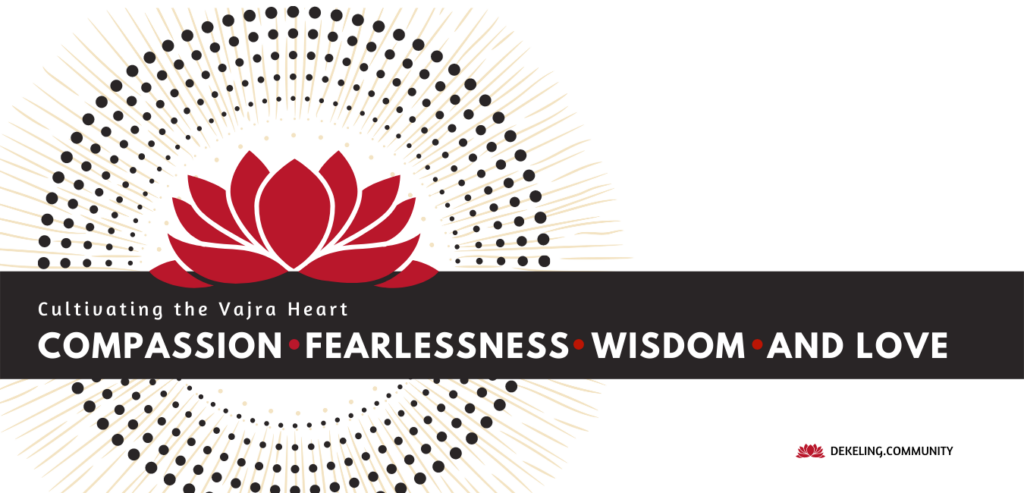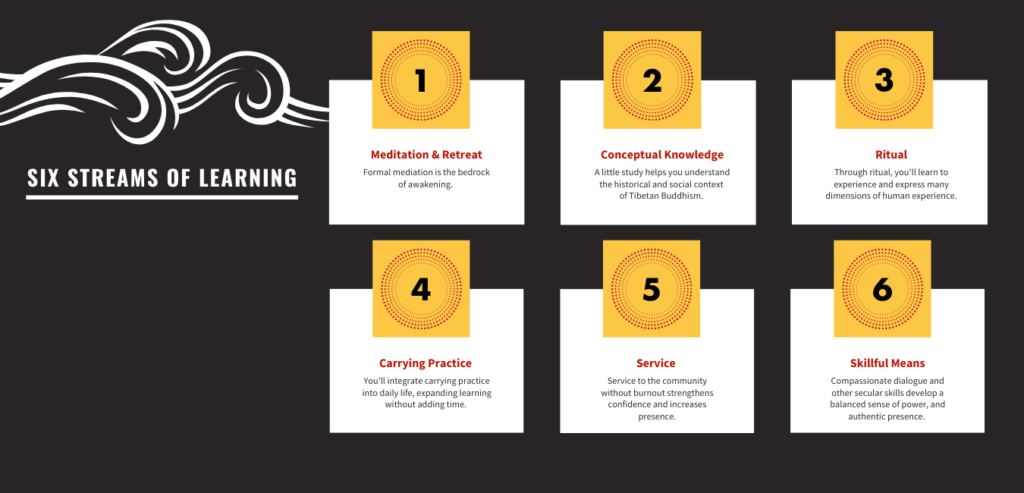 The first year of the Cultivating the Vajra Heart (CVH) program will begin in early winter, after the 2022 holidays. The program will use discussion, experienced-based learning and a variety of media-rich tools to lead students in an organized way through a graduated path of practice and study. As we do this, we'll cultivate the gradual shift of life's emphasis from conventional worldly success to a focus on awakening.
We have divided the curriculum into six 'streams', each nurturing specific experiences, knowledge, skills and habits. The six streams combined lay a firm foundation of view, ethics and action to create a dharma-centered life—and a strong personal skill set, to help mitigate the risk of spiritual bypassing.
Though anyone can engage in most of the curriculum on an ad hoc basis, there will also be the opportunity to participate a small, high-commitment cohort group who hold a shared intention to learn together across three years, both on Zoom and face-to-face. Participants in this group will commit to at least 3 hours a day of practice, five days a week, of study, reading, service, and so forth. Many of our community members already devote this much time to practice, and will find the focused integration useful. This is not an academic program. It is an intensive, practice-based training sequence to re-shape your life and understanding so that dharma practice gradually becomes the core activity of your life's expression.
To learn more, or to apply for a place in the cohort group, email Lama Lekshe at lekshe@gmail.com
To learn more about the program in general, be sure you sign up for our mailing list, which you can do at the bottom of this page—if you have not already.